Targeting individual accounts can yield higher results for your business. Some buyers' journey may be straightforward. But if you have high-value prospects requiring a more intense effort and attention from marketing and sales, you need to have a clearer targeted focus on these. How do you identify prospects for Account Based Marketing (ABM)? Here are some tips: 
Look Into Your Existing Contacts
As mentioned, the first thing to look out for to identify prospects for Account Based Marketing is to look into your marketing-to-sales pipeline. Evaluate the accounts there and you could find some deals that you can accelerate and assess if they're good candidates to concentrate your marketing and sales resources on. 
Assess Recently Closed Deals
It's effective to assess the potential of recent-closed deals for up-selling, cross-selling, and similar deals with other divisions and corporate subsidiaries. Remember: it's always easier to market to those who have already converted before rather than luring in new prospects who might not be interested in what you have to offer.
Use List Segmentation Tools
Segmentation tools can help gauge website interaction and email open rates. This will show you the prospects who have connected and engaged with your website and content. From there, you can evaluate if these prospects can turn into high-value accounts. 
Evaluate Social Media Followers
You can uncover a lot of things on social media; hence, evaluate the people who follow you because who knows? There may be big-deal opportunities there you can find. 
Participate in Trade Shows and Industry Events
If you get invited to trade shows and events, participate as much as possible. These are great places to connect and find potential sources for high-value contacts. 
Buy Buyer Intent Data
Capture buyer intent signals within the B2B landscape by purchasing buyer intent data. You can get specialized reports that you can use to identify companies in your market that might be ready for ABM focus. 
Prune Your ABM Prospect List
When you finally have compiled your ABM list, you need to prune it to ensure that it's manageable. You don't want to have too much on your plate; otherwise, this will defeat the purpose of ABM. Develop priority tiers for resource allocation. Additionally, determine which key accounts are high priority and which aren't. By doing so, you won't be overwhelmed.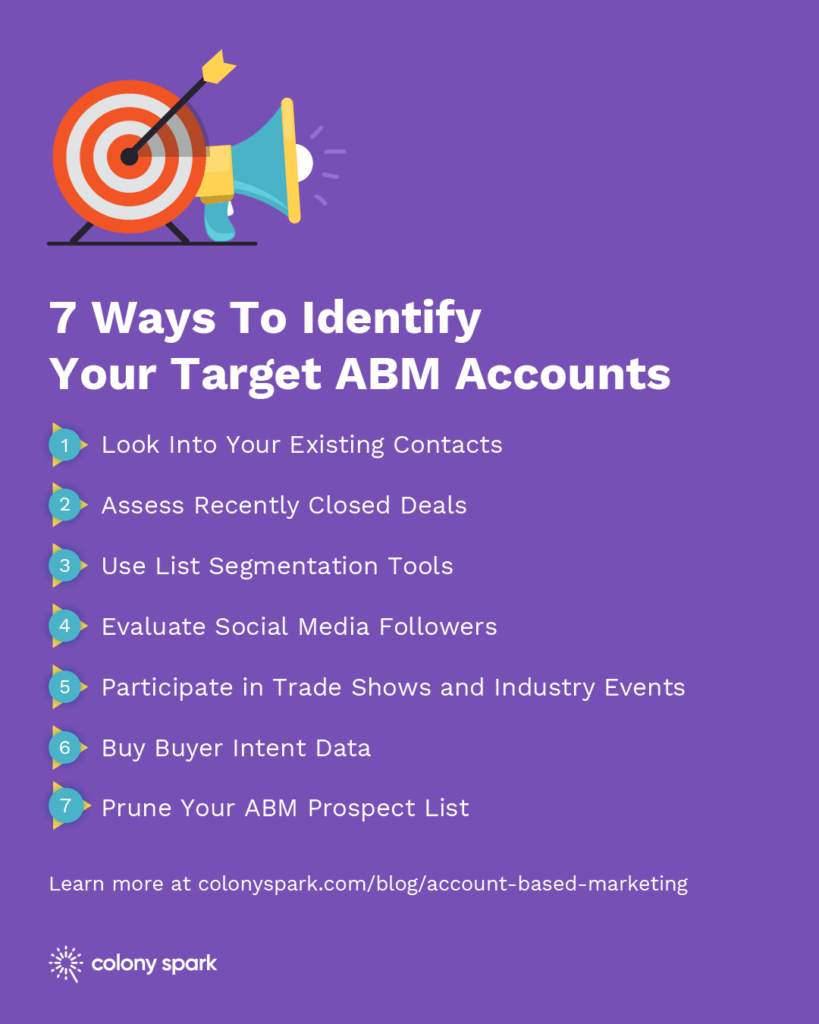 Conclusion
You can get plenty of opportunities through ABM targets, which encourages businesses to compile a list to ensure you get the most out of your marketing and resources. Moreover, you can now set your KPIs and ensure you use CRM Account Based Marketing tools for a more streamlined collaboration between sales, marketing, service, and other essential internal teams.
Through ABM, you can expect higher returns that will make every effort even worth it.