You're driving hundreds of leads to your landing pages, but there's one problem. No one is converting. Customers land on your page, click around, and then leave. Your marketing ROI drops as more and more customers land on your pages and bounce. If you do not see the conversion rate you want, you may be making one of these 10 landing page mistakes that are killing your conversions. 
What Are Traits of Bad Landing Pages?
1. Slow Loading Times 
Slow load times tops our list of landing page mistakes, and for a good reason. A website that takes longer than 3 seconds to load will lose 53% of visitors. Not only that, but a slow site can also be a negative ranking factor on Google, making it harder for customers to find you online.
Image credit: Hobo
So, how to fix your slow landing page? Images may be the culprit. Very large or too many images are the most common reasons for slow page load time. One solution is always to resize and compress images to fit the layout of your landing page. One of our favorite image compression tools is: Compressor.io
Remember, conversion windows are pretty short, especially for first-time customers. Optimize your landing pages for speed to capitalize on the momentum you've gained. 
Want to check out how your landing page is doing? Use this free speed test tool from Google: Google's PageSpeed Tools.
2. Mystery Call-to-Action
Users should immediately know the action to take when they land on your website. The Call-to-Action (CTA) should be clear. If users are hunting around trying to find where to click, you've lost opportunities. Look at this example from Ship Cars Now.
Image credit: AutoGrow
The Ship Cars Now landing page has seven CTAs. Someone who clicks on their site isn't going to know where to begin. Having too many call-to-action buttons on the same page can be a distraction. Your landing page can have more than one CTA, but make sure you prioritize them not to confuse your main goal.
How do you know if your landing page's CTA is effective? Do this quick test. Find someone who isn't familiar with your company and show him or her your landing page. Would he/she be able to look at it and determine: 
The purpose of the landing page?

The product or service you're offering?

The next step to take?

How to take that next step?
In addition to avoiding too many CTAs, you should avoid using too many text and font options on your CTA buttons (something else the above landing page fails to do). To unify the messages of a landing page, always use the same text for all call-to-action buttons. Different text in different CTA buttons will confuse your audience.
3. Cluttered Format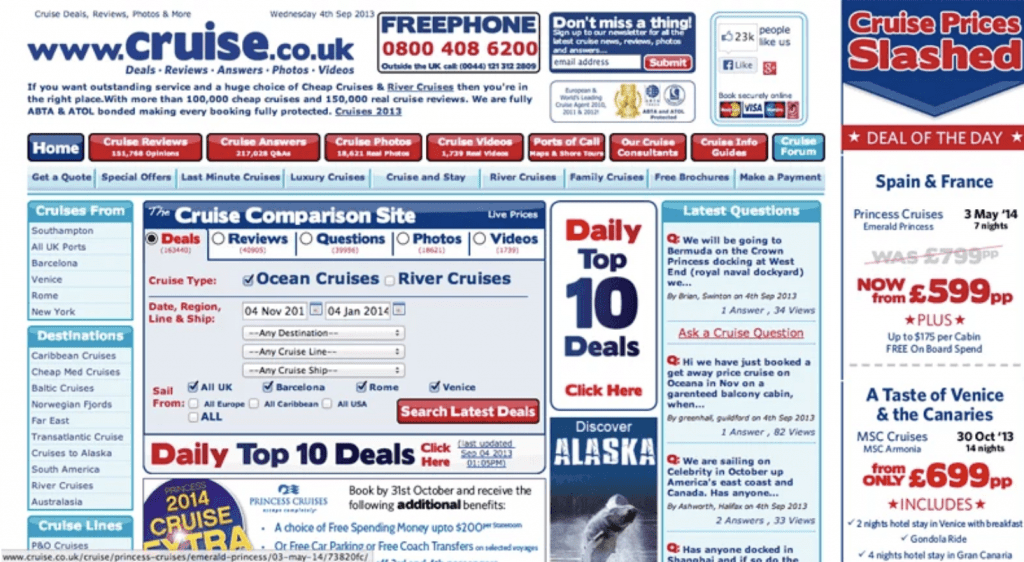 Image credit: Just in Mind
Take a look at the above landing page design and see if you can guess what's wrong with it. If you thought 'clutter,' you would be right. 
Too many boxes, multiple navigation patterns, and large, bold text all crammed onto the screen make for a poor viewing experience.
 Things to remember when designing a clutter-free landing page:
Remember, "Less is more." Show the user the most important aspects of your product and a way to read more details if he/she wants.
Use clever visuals (but not too many).

 

Visuals can quickly convey messages, but too many can be a distraction and cause your users to ignore your call to action. Removing flashing advertising banners, floating boxes, pop-ups, or any other similar distractions is essential to increase the conversion rates.
Limit your links/choices.

 

Too many choices can confuse users and make them leave your website. Make navigating your website easy for users by keeping the number of options short. You don't have to destroy the link architecture of your website to create an effective landing page. The links can remain on the page, but focus the attention on the choices that you want users to make.
Too many colors, fonts, text sizes, images, or buttons will muck things up and increase bounce rates, so 'declutter' your landing pages. 
4. Demanding Too Much Information
Your landing pages may contain forms where the visitor has to fill out contact information to download or buy an item. If you ask for too much information, you can turn off potential clients. Try to request only the necessary contact information. When possible, eliminate the fields that are unnecessary since they are considered barriers by many users.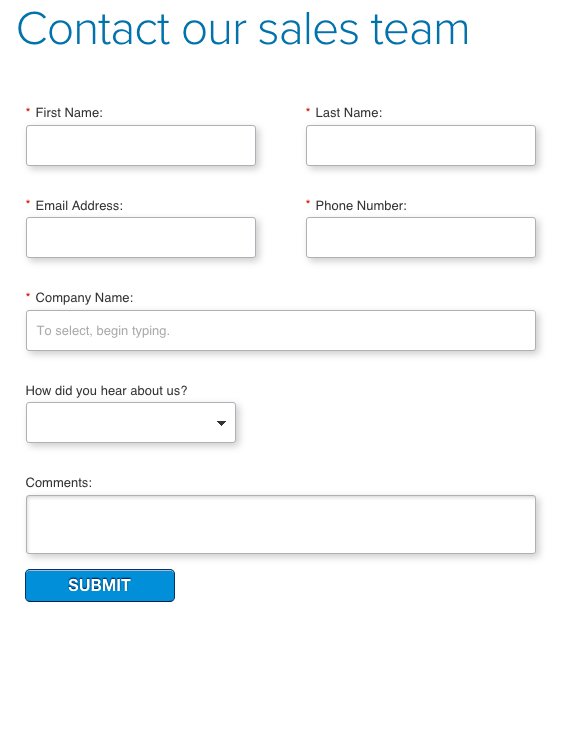 Image credit: Conversion Fanatics 
The key is only asking what is needed at the moment. Think of your forms as a way of building customer profiles. For example, if a customer wants to download an ebook, maybe you would only need his/her name and email address. You can use this information later to ask more questions after the customer requests a demo. 
In other instances, only email and name forms aren't going to cut it. You may want to ask more qualifying questions. Yes, you'd get fewer responses, but you'll also get more qualified leads. Find the right balance to know when to request what information. 
5. Lack of Trust
Low landing page conversion rates could be because customers do not yet trust your website. A well-designed landing page is the first step to building trust and shows customers that you are a serious company. Customers typically don't trust outdated looking landing pages.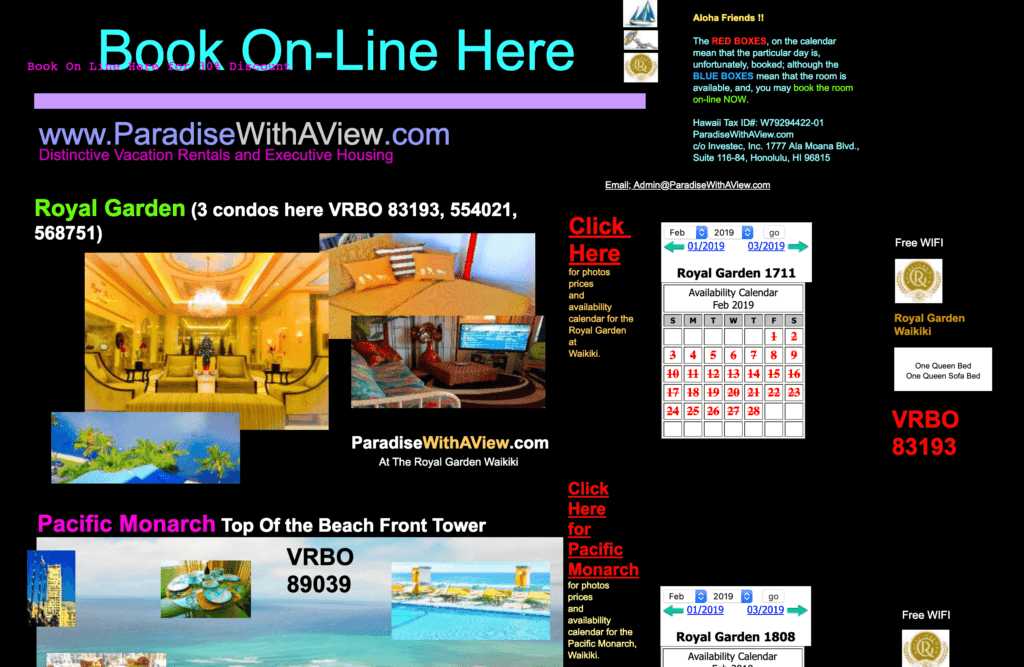 Image credit: Today's Local Media
Beyond a well-designed landing page, adding social proof like reviews and testimonials can go a long way into building trust with customers. Add testimonials from your satisfied clients, reviews from credible companies you worked with, and positive feedback from experts in your industry to your sites. Also, include in a visible position any Trust Seals or Badges that show that your website is safe for online transactions.
6. Broken Links 
Having broken links is the quickest way to lose potential clients.
Imagine this message happening to people who visit your landing page. They'll most likely click the back arrow, and you'll lose out on a potential sale. 
And they probably won't come back. 88% of online consumers are less likely to return to a site after a bad experience. That broken link not only drove customers away, but it also damaged your business reputation.
Screaming Frog SEO can help you check for errors, broken links, and technical glitches on your website Google Search Console is a free alternative option you can use. Ensure that every CTA works, every form submission submits correctly, and every download leads to the promised result.
7. Not Tracking Your Landing Page 
You cannot optimize your landing page without first knowing how well it performs currently. Not monitoring and tracking the landing pages' results is a major mistake that, unfortunately, a lot of business owners make. 
Invest time to review your traffic reports, trace user website behavior, and clicks by using Google Analytics Event Tracking and Google Virtual Pageviews. This information is critical to start evaluating and optimizing the results of each landing page.
8. Not Testing Your Landing Page
You should be testing more than one version of your landing page. If you don't test different versions of your site, you can't be sure what's working or how well. 
A/B testing gives you lots of useful data about the behavior and needs of your customer. Use the information you gather from A/B testing to improve your pages and make the right marketing decisions. You can easily perform A/B testing using Google's Website Optimizer. 
9. Not Optimizing Your Landing Page  
Redesign landing pages by taking into account the results that you track, the A/B testing, and the feedback from your users to improve conversion rates. Don't forget that your customers should "design" your website and not your Web Designer.
Remember, your customer's values are your company's values. Your landing page should reflect what your customer finds useful. Since different clients have different needs, you need to find a solution that satisfies most of them. You can find out what the majority of your customer values through testing.
Landing page optimization can be challenging. Optimizing your site requires you to present the information optimally. To understand your clients' needs, monitor your landing pages' performance closely, and invest time and effort on improving results and experimenting with new approaches.
10. Not Being Optimized for Mobile
Did you know that people browse the internet on their mobile devices more than on desktops? Internet browsing on phones is so popular that Google penalizes websites that aren't mobile-friendly.
Image credit: Google
How does your website look on mobile? A quick way to see is through the Google Mobile-Friendly Test.
Here are four critical tips for designing for mobile:
Keep headlines to 5 words or less.

Don't forget to include your company logo.

Use simplicity and whitespace in your design.

Keep the form simple and the call to action button prominent.
Wrapping Up
You can have the best offer in the world, but people won't convert if they don't stay on your landing page long enough. 
Conversion-killing landing page mistakes include: 
Slow loading times

Unclear call-to-action

Cluttered format

Demanding too much information

Lack of trust

Broken links 

Failing to track, test, or optimize your landing page. 

Not being mobile-ready
Fixing these typical landing page mistakes will boost your campaign's performance and save you money. So make sure you're not guilty of these all too common mistakes!