A successful Account Based Marketing or ABM strategy is made up of many components. Additionally, having the right tech stack can help you accelerate critical aspects of your initiative. For example, having the most effective software can help you improve your goal-tracking, allow you to monitor the progress of leads through the sales funnel, and consolidate target-account lead data. However, no single platform or tool can do all of this for you; you'll have to figure out the combination of products that can work seamlessly together to function as you desire.
Finding the right ABM tech vendors to meet your needs can be overwhelming. Especially when you have to meet with several of them to construct your tech stack. Fortunately, asking the right questions will help you determine if their solutions are the perfect fit for your organization. Here are six questions to ask ABM tech vendors:
1. Can It Reach Companies on My Target Account List?
Guessing who your target accounts are and the decision-makers behind them will only lead you to exhaust your resources without enjoying tangible results. You can circumvent this by creating an account-based strategy that must start with studying data from your web analytics software, advertising platforms, and CRM. Doing this will reveal crucial attributes of opportunities that bear the highest potential for your success. Software that helps you understand who is most likely to purchase your products or services using digital behavior is one you'll want to include.
2. Can It Identify Target Accounts and Decision-Makers?
It is crucial to develop an ABM strategy that encompasses various tactics to ensure that you reach your target accounts; for example, email and social. In fact, some software allows you to focus your ads and content specifically on companies on your target account list. This increases the likelihood of these entities becoming potential customers. Through this method, you won't have to waste ad budget on companies who aren't likely going to convert.
3. Can It Help Us Nurture Decision-Makers?
Once you've successfully attracted key decision-makers, you'll want to know if the software can help you nurture them with content that will lead them through their buyer's journey and encourage them to purchase from you. By enticing them to engage with your content, they'll be more inclined to research your product or service, improving their chances of conversion.
4. Can It Natively Integrate With My CRM and MAP?
There is an overwhelming amount of data available to marketers, requiring simple integrations to make tracking them from end-to-end more accessible. Ensuring the software can integrate with your current tech stack will provide you with an easier way to track opportunity data and monitor them closely. The ABM technology you choose must fit seamlessly into your existing software without having to pay for expensive custom integrations. 
5. Can It Help Organize Account Data?
Your ABM tech stack will need tools designed for account data aggregation, which will connect leads to accounts and organize opportunities according to the buyer personas you create. Such technology can take information from third-party data sources to help you better understand the situation and align your sales and marketing teams.
6. Can It Fulfill Multiple Marketing Purposes?
Lastly, you'll want to make sure you get the most value for your money. Make sure that the new ABM software you're eyeing can address multiple marketing needs. If it's limited to a single purpose, you may want to look elsewhere. It is crucial to acquire value from your new investments as soon as possible.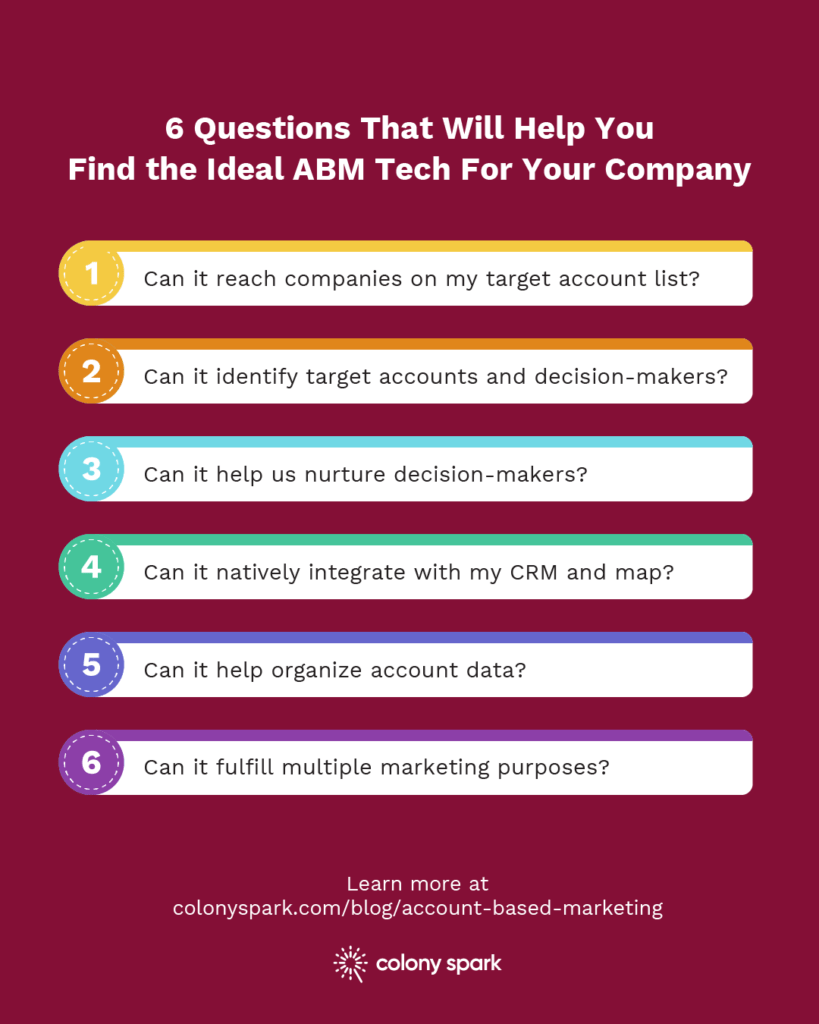 Conclusion
Building your ABM tech stack can be challenging. Perhaps you'll have to sift through many different vendors to find the right combination of technology. By working with digital marketing consultants and asking these questions, you'll narrow your choices and create an efficient ABM tech stack that works to your advantage.