These are anxious times for startup founders, particularly for those still in the early stages. Before your top concerns about business may have been how you could innovate and scale-up. Now, many companies are facing an existential crisis about business continuity while counting their remaining pennies.
The first half of the year has brought extreme challenges that many of us have never faced before, both personally and professionally. Businesses that want to thrive in the future need to retool and move fast. Winning in 2022 and beyond will require you to be steadfast in your strategy and values. Being mindful of these challenges early will save you time, and resources.
Below are the top 12 startup challenges you must master to be successful in 2022 and beyond.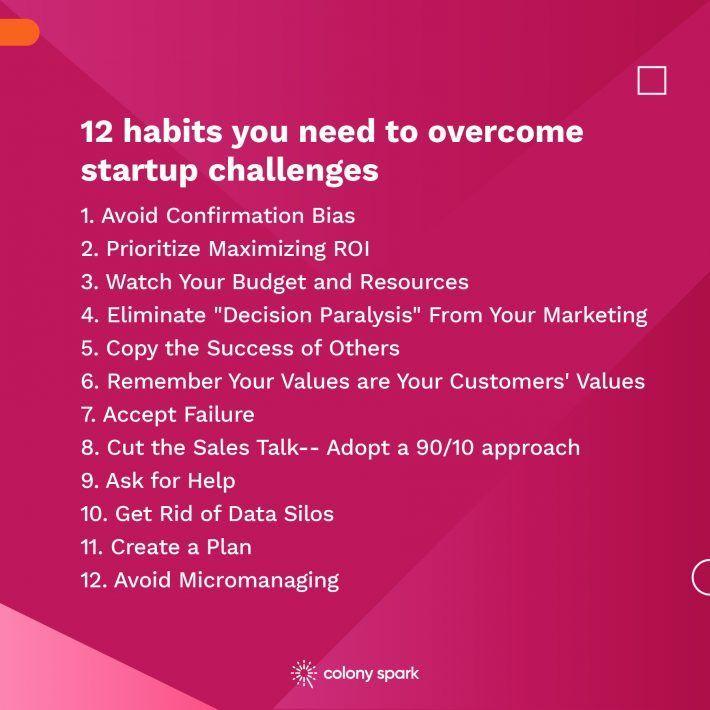 Overcoming Startup Challenges
1. Avoid Confirmation Bias 
Confirmation bias is our tendency to cherry-pick information that confirms our pre-existing beliefs. In business, confirmation bias stifles creativity and innovation. If we feel nothing is wrong, we do nothing to change it. 
Using split testing is one way to overcome confirmation bias. When creating campaigns, it can be tempting to use our intuition to predict what will make people click and convert. Often, A/B testing does prove us wrong about our assumptions. However, even the results of our tests can be biased if we're too emotionally attached to our hypotheses. Consider bringing in a third-party marketing team to help you be objective.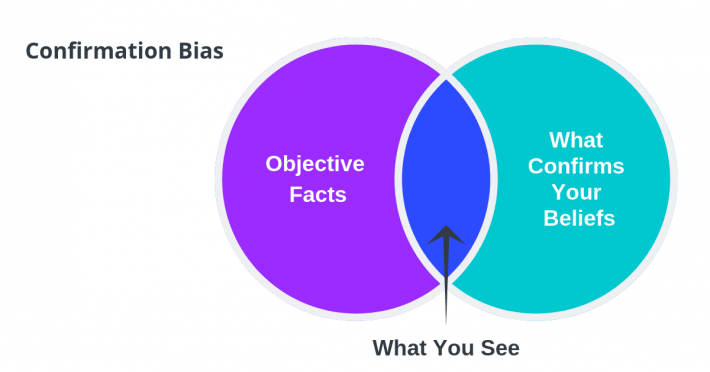 Image: Buffer
2. Prioritize Maximizing ROI
Now more than ever, you need to see where your money is going. Return on Investment measures the sales revenue a campaign brings on every dollar spent. ROI is the best KPI to measure the effectiveness of all marketing campaigns because it also measures the quality of leads these campaigns generate. 
Despite this, most CMOs cited "awareness" as their main KPI. And only one in four marketers feel that they can confidently quantify ROI.
The reason for this low percentage is many ROI calculations are too static for the flexible and dynamic environment marketing poses. The ROI calculation for any marketing initiatives has to be as flexible and dynamic as marketing itself and requires rapid testing.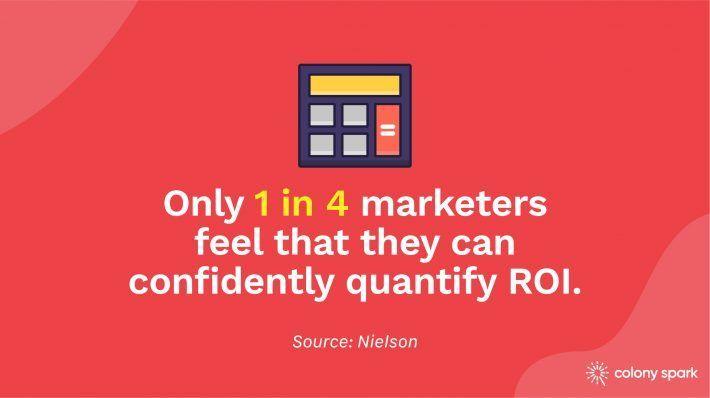 3. Watch Your Budget and Resources 
With budgets cut, you need to do more with less. Now more than ever, you should measure the inputs and outputs of your efforts efficiently. An example of an input would be your email growth list of qualified prospects, and the output would be revenue. Use analytics to be sure you're optimizing your budget, and it's always handy to have the help of smart tracking tools. Make sure that each marketing strategy has some chance of bringing a return before significantly investing time and money. 
4. Eliminate "Decision Paralysis" From Your Marketing
What worked for you at the beginning of the year, may not work for you now, and you may need to make decisions quickly. There's a high correlation between successful startups and startups that are run by people who make decisions quickly. In fact, companies that excel at making and executing key decisions are 95% more likely to achieve top-tier financial results.
Putting off making a decision is making a decision. If you put off making a decision, you're deciding to keep doing whatever it is that you're doing now. 
Decision-making is often overwhelming, but there's no reason why it has to be done in isolation. The more involved other people in your organization are in the decision-making process, the healthier your company will be.
5. Copy the Success of Others 
Copycat marketing is copying the successful marketing techniques of your competitors. After all, why fix something that isn't broken?
In short, if your competitors have found a strategy that works, consider implementing it as well. There's nothing wrong when working with what you know has proven to be advantageous, as long as you put your spin on it. 
Copying is useful, but it can stifle innovation and creativity if taken too far. Take what's successful but make it your own so it will resonate with your customer. 
6. Remember Your Values are Your Customers' Values
This year has seen many of us shifting and reprioritising with global events, and your customers are no exception. 
Your customer's values and priorities may have shifted. And if you don't have your ear to the pulse of what customers are thinking and feeling, many of your marketing campaigns can come across as tone-deaf. Always remember that your company values are about the customers' values, not yours. 
Customers want to align with companies that value the same things they do. The best way to understand customers' shifting values is through several research techniques, such as surveys and customer feedback forms.
7. Accept Failure
Good businesses need to experiment, and you cannot experiment if you're afraid to fail. Experimentation allows your company to pursue more than one opportunity to discover which one has the most potential.
You only need a few big wins to make your experiments worth it. Most experiments fail, no matter how well-designed. One study found that more than 50% of experiments conducted at Amazon, Microsoft, and other software companies failed. However, the tests improved the metrics they were designed to improve. Failing opens us up to new perspectives that challenge our assumptions, and help us make better decisions. 
8. Cut the Sales Talk– Adopt a 90/10 approach
Being salesy is when you try to sell your product to someone in the wrong stage of awareness in an aggressive or superficial manner. You don't ask them what they may need from your product. Instead, you dive into a sea of facts and technical jargon. 
You're in business to give your customers values, yet only 10% of buyers believe sales pitches offer any value. Always provide customers value before pitching. Aim to spend 90% of your time offering value and 10% of your time pitching your product.
9. Ask for Help
As a startup owner, you may feel the temptation to project complete confidence and competence to stakeholders. 
But nobody's good at everything. If you want to move fast, avoid simple mistakes, and fill the gaps in your knowledge, put your ego aside and get help.
No matter your stage in business, you should always be open to receiving advice from experts and getting new opportunities for mentorship. You can join several online communities to find mentors.
A short-list of startup communities include:
The best part is, with every mentor, you create a new possible advocate for your brand.
10. Get Rid of Data Silos 
A data silo is a group of raw data only accessible by one department but isolated from the rest of your company. Working with data silos results in poor-quality data because these fragmented pieces of information are difficult to assemble. Data silos result in a lack of transparency, efficiency, and trust within your business. 
Data cannot easily pass between departments of organizations that don't have access to proper technology. Companies need software that can quickly transfer and cross-reference information across departments. If your data is not integrated or in sync, you'll see conflicting data when you try to cross-check information from different sources. One solution is building dashboards that can bring in data from all your tools and across departments. Some options include:
11. Create a Plan 
The key to successful entrepreneurship is having a plan that is both flexible and persistent. Reid Hoffman, the founder of LinkedIn and author of The Startup of You, calls this process ABZ Planning. 
Plan A is your current plan and what has been working for you so far. Plan B is what you pivot to when you recognize that a new opportunity has more potential. Sometimes you change to Plan B because A is not working, but sometimes A is working, yet Plan B appears to have more potential. 
Plan Z comes into effect during worse case scenarios and has two parts. The first part identifies how to measure when you're tracking towards a worst-case scenario. The second part tells you what to do should that happen. Plan Z allows you to tackle uncertainty and risk in your business. Plan B or Z may be where you're at now. No matter what plan you choose to put in place, be sure they include your key metrics and goals, and how you plan to reach them. 
12. Avoid Micromanaging
Working from home will probably be the new normal. Experiencing discomfort at managing this change is perfectly normal. When you're used to in-office workspaces, going remote can make you feel disconnected from your employees, and you may micromanage to overcompensate. But no matter the circumstances, micromanaging is highly discouraged. 
Putting sudden pressure on staff can cause productivity to slow down. Instead, encourage good communication and collaboration habits by employing using business communication tools like Slack and Zoom. Remember to be flexible as people adjust to these new changes—express confidence in your workers. Your team will likely step up to the challenge if given a chance.
Wrapping Up
To summarize, the top 12 habits you need to overcome startup challenges include:
Avoid Confirmation Bias

Prioritize Maximizing ROI

Watch Your Budget and Resources

Eliminate "Decision Paralysis" From Your Marketing

Copy the Success of Others

Remember Your Values are Your Customers' Values

Accept Failure

Cut the Sales Talk– Adopt a 90/10 approach

Ask for Help

Get Rid of Data Silos

Create a Plan

Avoid Micromanaging
Proactive thinking can help reduce the number of issues encountered. Come up with a plan to tackle these common issues to ensure the success of your business.