Account Based Marketing (ABM) is a great way to refine your targeting. It ensures you provide the most relevant information for your target audience. If you're starting to integrate ABM into your strategy, you'll need to look into the existing ABM platforms. These will help you implement this in the most effective way possible.
Many ABM tools out there bring value to your business, but it's easy to get overwhelmed with so many options. Choosing the right one depends on the features of a partnership that you prioritize the most; it's essential to evaluate each platform carefully. You can also seek the guidance of digital marketing consultants to determine the best platform for you. Here are some of the most popular ABM platforms to consider:
Demandbase
Demandbase is one of the most popular ABM platforms due to its personalized advertising features. It provides a comprehensive AI-powered platform that helps B2B marketers refine their strategy, target the right audience, and improve the content they deliver. The website is also incredibly informative since it breaks down the pricing and other information you need before deciding to invest in it. 
The platform is easy to use and helps marketers move their targeting from a one-to-many to a one-to-one setup, allowing them to deploy optimized ABM strategies. It has also helped countless sales teams move many leads through the pipeline by helping them target opportunity accounts. Many have praised it for being exceptional at its many capabilities, such as targeting and personalizing ads and landing pages, website performance reporting, sales activation, and others. It recently acquired Engagio, another ABM software, expanding its features further and making it even more powerful.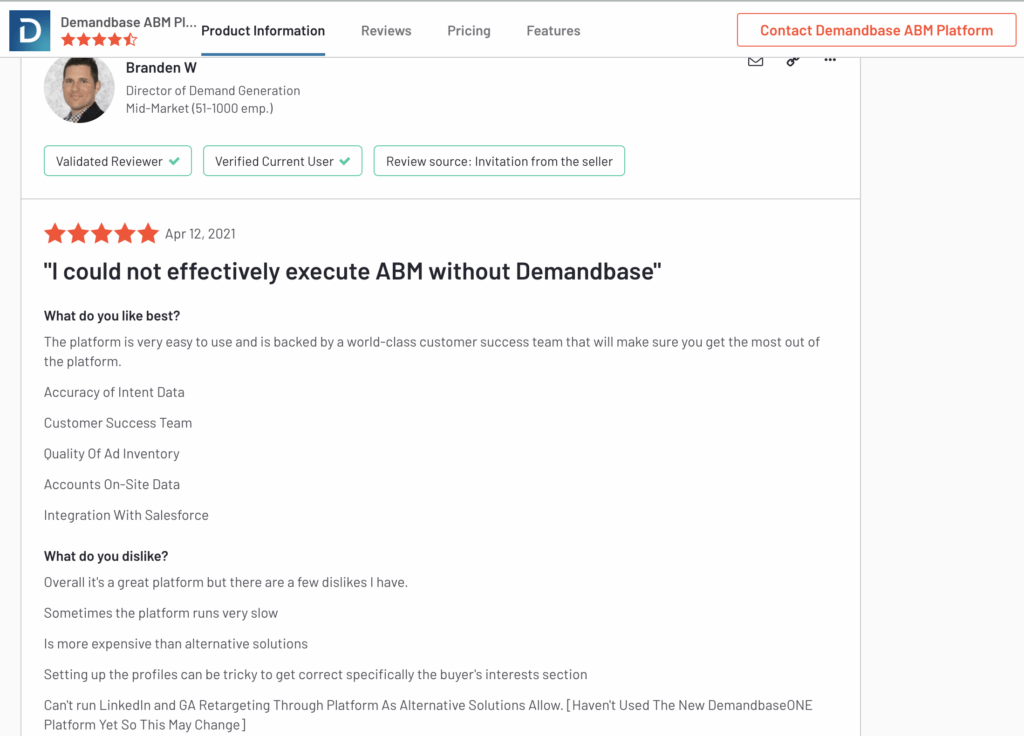 Source: G2
RollWorks
RollWorks provides determined B2B companies of any size with account-based software to help them streamline their marketing and sales teams, align them, and increase their revenue. It uses machine learning to help marketers identify target accounts, capture their attention through digital ads and web personalization, and measure the effectiveness of their strategies. 
In fact, RollWorks is so popular that many marketers have called it a must-have for your ABM tech stack. It is a perfect platform for those who value the measurement, identification, and engagement of an ABM strategy. It also has multiple marketing programs that you can use to retarget and acquire intent data, dive into it, and create optimized plans based on it. Additionally, it promises stellar customer service, which is excellent for those who value after-care. It can also be integrated with HubSpot to see which accounts are being retargeted. This genuinely makes it a product worth your investment.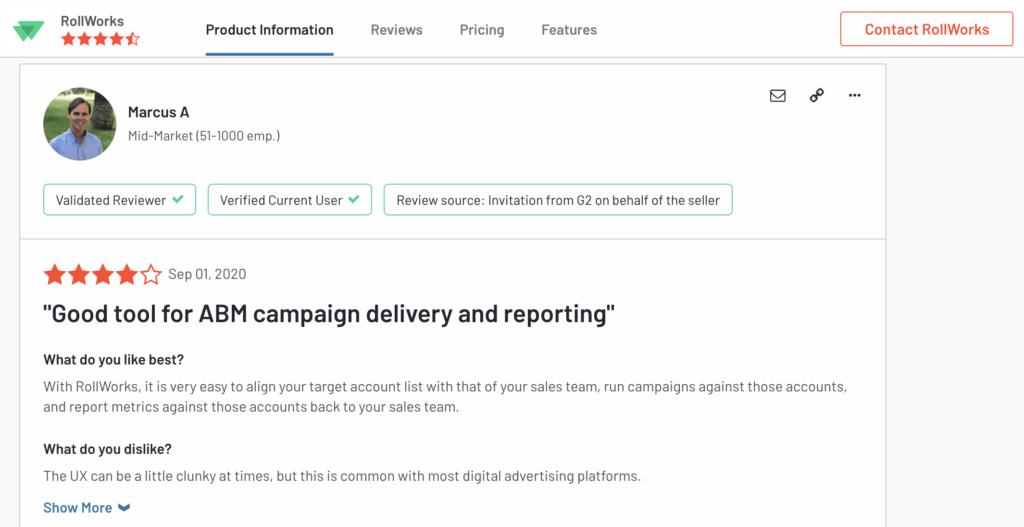 Source: G2
6sense
A predictive prospect analysis and lead scoring software, 6sense prides themselves on helping B2B organizations grow and thrive with the power of AI, big data, and machine learning. Their software provides insights to sales teams so that they can take advantage of opportunities, increase deal size, and beat out the competition. 
What makes 6sense unique is their expertise not only in ABM but also in B2B customer analytics. They are currently the only vendor with a patented AI model that provides insights on the best time to engage an account. With their help, accounts, sales, and marketing teams can approach the customer at the perfect time with personalized campaigns catered to their needs. By automating omni-channel experiences and aggregating data, sales, marketing, and operations teams can better work together to accomplish a unified goal.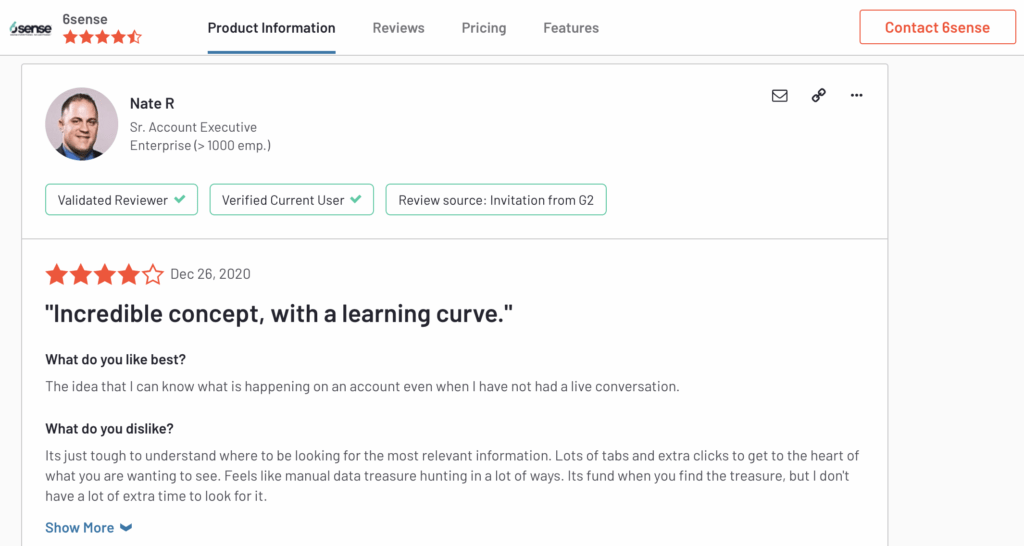 Source: G2
Jabmo
Jabmo is another renowned ABM company. It is intended for manufacturing companies with goals of generating more revenue with their leading accounts. However, this can be affected by the limitations of the usual marketing automation programs. Jabmo stated that manufacturers are currently taking the move of travel and event budgets into account-based marketing. It aids businesses to engage, connect, and reach the buying committees of their main targets, as well as targeted advertising and metrics.
Jabmo is created as an omnichannel platform. It is composed of sales insights, account-based advertising, personalization, and marketing automation. The company works with more than 50 manufacturers in the world. It also offered a Manufacturing 5000 Survey Report on the website featuring the data collected from the companies on the list. There are several office locations of Jabmo in the United States, Japan, and France.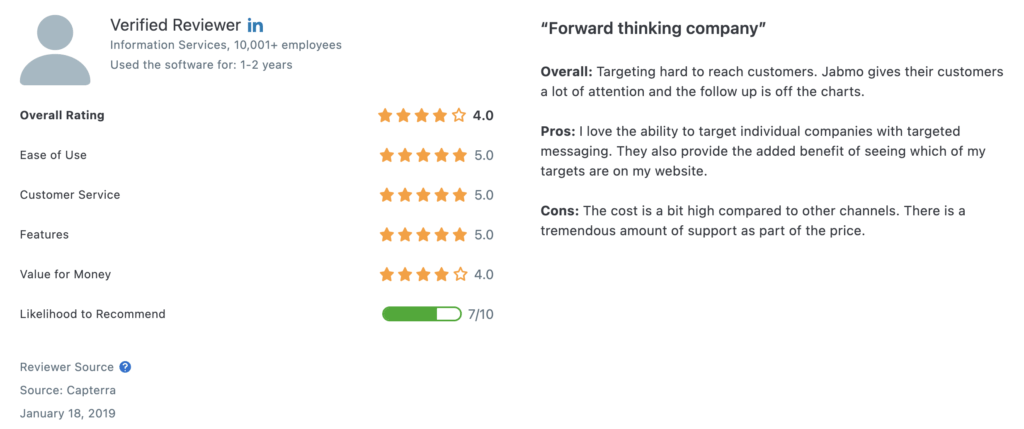 Source: Capterra
Terminus ABM
Terminus ABM is the leading marketing platform that is based on customer-rated accounts. It is a complete command center with organized multi-channel campaigns. It also provides services for targeting the ideal accounts, activating sales, separating signals from noise, and presenting the crucial revenue outcomes. Generally, the Terminus ABM platform aids the team in delivering results from sales pipelines and revenue goals.
The Terminus Account Hub serves as the command center of the main target account database. It aids in unifying a team's first and third-party information to provide a 360-degree view of all the targeted contacts and accounts. It also helps in identifying gaps in connecting, as well as prioritizing ABM efforts as a team.
The attribution features of Terminus become even better after acquiring BrightFunnel. Besides, its email targeting has also improved after the acquisition of Sigstr. It also provides resources, including videos, blog posts, infographics, webinars, and white paper.
Source: G2
HubSpot ABM
Perhaps, the most popular and emerging account-based marketing tool is HubSpot. Most online marketers use it nowadays. It is one of the leading platforms in inbound marketing and provides a rich database of marketing resources. 
Most marketers prefer HubSpot because it also provides a modern style of marketing that helps business owners who want to achieve more traffic, engagement, and conversions. There have been continuous tests and trials when it comes to HubSpot integrations and functionality. Content ideas are also provided by this platform. You'll truly impress yourself with its amazing content and resources.
Source: G2
Conclusion
Every marketing effort should integrate with effective platforms and smart strategies. Learning the different ABM platforms will help your business become more prepared for both inbound and outbound marketing. Take advantage of their features that you can use to leverage your marketing goals.
If you need to retool your current marketing strategy, we are here to assist. Colony Spark offers services including PPC, SEO, and ABM marketing specifically for startups and other businesses in different niches.